The Office of Education Quality Assurance (OEQA), Ministry of Education has released the approved harmonised school calendar for the 2022/2023 academic year, which is in line with its mandate to ensure a harmonised academic school calendar for both public and private schools in Lagos State.
According to the authorised school calendar, schools below the tertiary level in the State will reopen for the First Term (2022/2023 academic session) on Monday, September 5, 2022, and will close on Friday, December 16, 2022.
The academic calendar for the school year 2022/2023 emphasises school flexibility and harmonised instructional days of learning for all schools in the state to ensure that children spend productive learning hours in the classrooms while schools are held accountable on the same criteria. It is important to note that schools must maintain a minimum of 180 learning days each year, according to the school calendar.
All schools are urged to rigorously adhere to the academic calendar and important notes, as approved, for the delivery of quality and sustainable education in Lagos State, in line with Governor Babajide Sanwo-T.H.E.M.E.S. Olu's agenda on Education and Technology.
Also Check: University of Benin Teaching Hospital, UBTH College of Nursing Admission List, Clearance 2021/2022 | ND/HND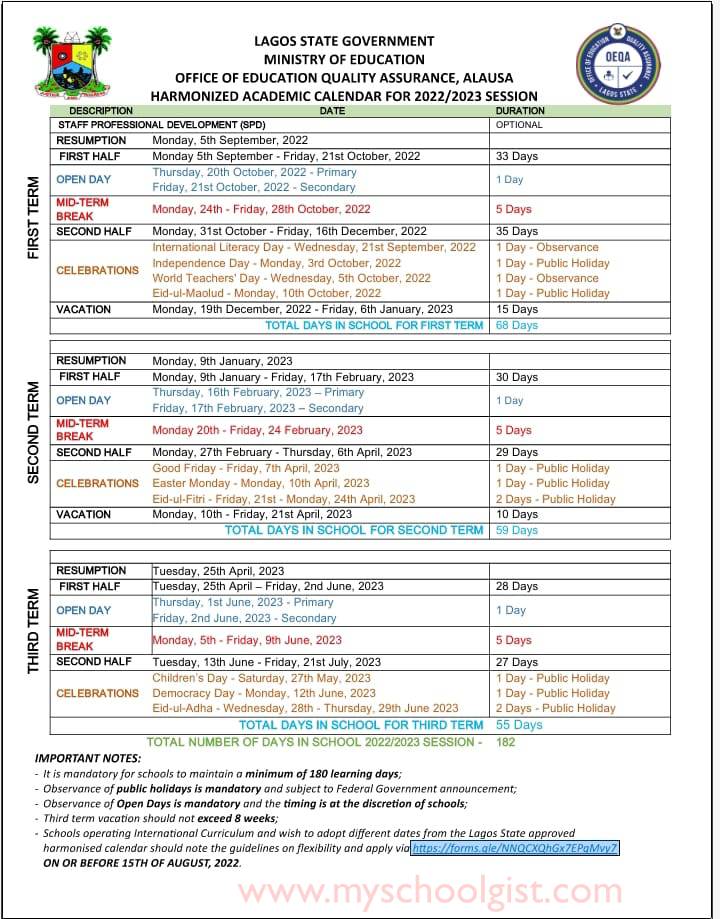 Share This Post
: If you think this post can be helpful to somebody else, please share it using the buttons below!